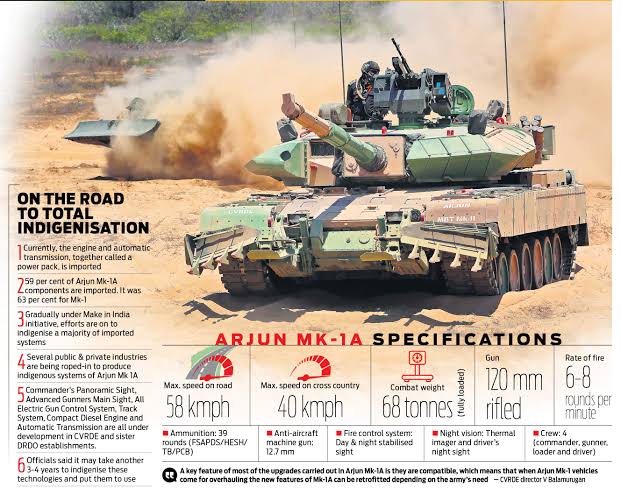 India's indigenously designed Arjun Mk-1A clears trials and ready to go into production
Arjun MK-1A which is an enhanced version of Arjun MK-1, the deadliest all-weather tanks, manufactured with the advanced technology has cleared all its trials and fulfilled all user specifications. This is the most awaited attractions of the 11th biennial edition of DefExpo India 2020, which will be held in Lucknow in February. This tank has been designed by the scientists of Combat Vehicles Research and Development Establishment (CVRDE) a state-owned DRDO laboratory in Chennai. As it has received a green signal from the army, it is expected to be manufactured on a large scale at the Heavy Vehicles Factory (HVF) in Avadi.
The Major improvements in Arjun MK -1A in comparison to Arjun MK-1
In comparison to Arjun MK-1, 72 improvements were made to Arjun Mk-1A, of which 14 were the specific recommendations from the Indian army. Firepower, protection and mobility are the basic parameters of the tank.
Under firepower, four major upgrades were made. To help the tank crew to track and fire the target on the move, an upgraded Gunner's Main Sight (GMS) with Automatic Target Tracking (ATT) has been mounted. In addition, Panoramic Sight of the Commander (CPS Mk II) was incorporated with the Thermal Imager which helps the tank commander to effectively conduct surveillance during the day, and night time as well. Arjun MK-1A is fitted with the Remote Controlled Weapon Station, which will allow a loader to reach the ground targets and aerial targets from the protective shell of the armor.
The vehicle has Track Width Mine Plug (TWMP) in order to protect the tank crew, so the vehicle can cross mines without any obstruction because the minesweeper would easily create mine-free roads. The defense against chemical attacks would be one of the most striking features of Arjun MK-1A. The tank has been fitted with a special sensor to detect the presence of toxic substances in the air around the tank. Nuclear Chemical System raises tank pressure to slightly higher than in the atmosphere when this sensor detects the harmful chemicals, to prevent air from entering the tank. A particulate filter provides a tank crew with oxygen to survive. Reliable Techno Systems (AS9100D certified) has been collaborating with DRDO for a long time and we really take pride in contributing to these indigenous MakeinIndia projects.